ARTES LIBERALES 2017: Age of Revolution(s)
* All the events take place at "Ў" Gallery if not noted otherwise. The program is subject to minor changes. Please check this page for updates and follow us on Facebook, VK, Twitter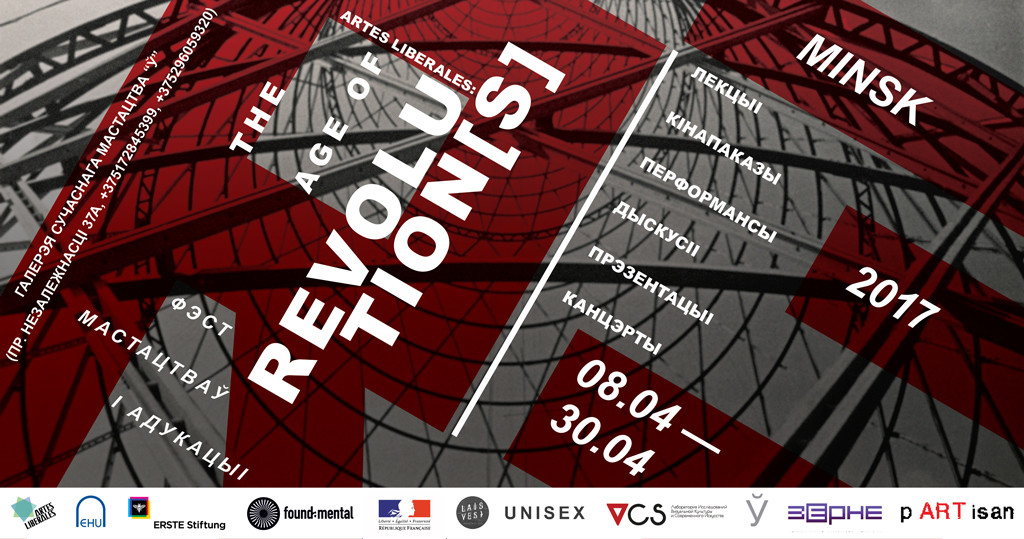 08.04, Saturday
19:00 — Artes Liberales 2017 OPENING
Project presentation

Sergey Shabohin exhibition opening: "Divided Solidarity"
KorneJ

(DJ set)
09.04, Sunday
15.00 — Andrei Charniakevich: "Belarusian national revolution: issues of Belarus People Republic and the Bolsheviks relations"
17:00 — Anna Karpenko and Antonina Seriakova: "The Newest Technologies in the Contemporary Art Field".
19:00 — Concert: Poly Chain (UA/PL), I/DEX, VJ Solar Olga [Azgur Museum. Buy tickets online: 5 BYN]
10.04, Monday
18:00 — Nikita Kadan artist talk: "Hold the thought where the story was interrupted"

18:30 — Discussion: "A New State Management or a Classical Bureaucracy: how  can we learn to manage the State in Belarus? "  with Tatsiana Chulitskaya, Andrei Stsiapanau and other experts. [Press Club – vul.Charužaj 3. Please register at Press-Club.by ]
11.04, Tuesday
10:00 — Media-breakfast with Artes Liberales team
19:00 — Alla Sokolova: "Revolutionary legal consciousness as a source of the Soviet Law: paradigm shift".
12.04, Wednesday
18:00 — Kseniya Shtalenkova: "Money and Ideology: Hundred Years' Revolution of Belarusian-ness"
20:00 — Viktoria Konstantyuk: "Reading Jodi Dean: Social Media as an Instrument of (Non) Revolution"
13.04, Thursday
18:00 — Lectures by historians:
Ina Sorkina: "Rebellions in the name of Freedom. Belarusian 'miastečki' (small towns) inhabitants fight for the lost liberty and land in 19 c."
Iryna Ramanava: "1937: how terror became the Great one".
Siarhej Chareuski: "Enchanted by the Revolution: artists and architects fate in the context of 1917 events"
14.04, Friday
19:00 — Film/Conveyor: Alexander Vashkevich presents "A Short Film About Killing" (Krzysztof Kieślowski, 1987).
15.04, Saturday
15:00 — Michail Volchak and Sviatlana Ermakovich:
Lecture: "Wikipedia and Direct Democracy"
Workshop: "How artists, photographers and movie makers can make friends with Wikipedia"
18:00 — Ianina Prudenko (Ukraine). Lecture/Screening about the Open Archive of Ukrainian Media Art
20:00 — Olia Sosnovskaya: Lecture-performance: "burn, on fire, alight, inflamed, glow, ablaze, fervent, go up in smoke".
16.04, Sunday
15:00 — Valentina Moroz and Taciana Arcimovič "Revolutionary Body in 1920-s Theater. Vs.Meyerchold's Biomechanics in Soviet Russia and Belarus: Theory and Practice"
17:00 — Ianina Prudenko (Ukraine): "Political Aesthetical. Revolutions and War in the Contemporary Ukrainian Media Art"
19:00 — Dmitry Boichenko: "MACHINOMIA: problems of the Second Industrial Revolution"
18.04, Tuesday
18:00 — Margarita Jankauskaitė (Lithuania): "Gender revolution within the context of capitalism evolution"
20:00 — Halina Rusetskaya: "A Case of a Revolution in Style. Psychoanalysis – a Scandalous  Form of Knowledge".
19.04, Wednesday
18:00 — Pavel Voinitski: "The Monumental Revolution" in the Belarusian Sculpture of the later 1960-s  – 1970-s"
20:00 — Alexei Pikulik: "Political economy of rent regimes – or why the electorial revolutions are not what they seem too be"
21.04, Friday
18:00 — Krytyka Polityczna: "Being a Left Intellectual in a Post-Socialist Context" (Agnieszka Wisniewska, Ela Rutkowska, Dawid Krawczyk, Mikolaj Syska)
20:00 —  Film/Conveyor: Aliaksandra Ihnatovič presents "The Blockade" (Igor Bezinović, Croatia, 2012)
22.04, Saturday
15:00 — Yuliya Vasilyeva: «Sounds of the Future» in a Hollywood Sci-Fi movies
17:00 — Vlodko Bodnar (Ukraine): "Bio-art. Three waves of conceptual shocks"
20:00 — Concert: Grupa Etyka Kurpina (Adam Frankiewicz  — Poland)
23.04, Sunday
15:00 — Aleksander Lisov: "UNOVIS as an Instrument of theWorld Revolution of the Spirit"
17:00 — Lina Dokuzovic (Austria): "Knowledge-based Movements"
19:00 — Gerald Raunig (Austria): "Molecular Revolution"
21:00 — Elske Rosenfeld (Germany): Performance: "She turns her head, she lifts the pen"
25.04, Tuesday
19:00 — Michail Volchak and Sviatlana Ermakovich: Creative Commons
Presentation of Creative Commons Branch in Belarus
Lecture: "Why it is important to spread the Public Domain and to support the Commons
26.04, Wednesday
18:30 — Discussion: "Researching the Re-/e)volutions: to count or to talk" (Tatsiana Chulitskaya, Andrei Stsiapanau and other experts).  [Press Club – vul.Charužaj 3. Please register at Press-Club.by ]
27.04, Thursday
19:00 — Film\conveyor. Xavier Le Torrivelec: "Analysing 'The Sixth Part of The World' Film by Dziga Vertov (1926) from the Perspective of the USSR National Policy"
28.04, Friday
18:00 — CANCELLED: Oleg Bresky: "Law and Revolution"
20:00 — Almira Ousmanova: "Revolution and Representation".
29.04, Saturday
16:00 — Debates on the De-Sovetization of Urban Space. Belarusian Experience
18:00 — Andrey Gornykh lecture. Presentation of multimedia-projects of EHU students.
30.04, Sunday
15:00 — 19:00 — Ahniya Asanovich: Workshop. City (-) for people
20:00 — FINISSAGE
* All the events take place at "Ў" Gallery if not noted otherwise. The program is subject to minor changes. Please check this page for updates and follow us on Facebook, VK, Twitter