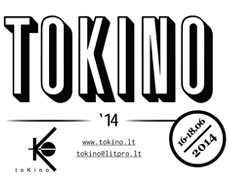 Welcome to "toKino", the festival of Belarusian and Lithuanian No Budget Films to be held in Vilnius, Lithuania, on 16-18th June, 2013.
"toKino" is an open platform for presenting opinions and exchanging experiences by young authors from Belarus and Lithuania, who are in search of alternative ways for voicing their concerns and / or using films and videos as a tool of social activism.
"We believe the film-making is about researching life, experiencing and learning how to see and how to speak. toKino is for films of new realities and new challenges, as an opportunity to speak out about something conventionally covered by silence. To see something they are afraid to look at. To do something they deem impossible."
"toKino" is for films of inter/action, attitude and reflection.
If not you, then who?
The dead-line for applications and the films to be submitted is
1st May, 2014

.

More about the Festival idea, terms and conditions for participation: www.tokino.lt
The Steering Committee: tokino@litpro.lt